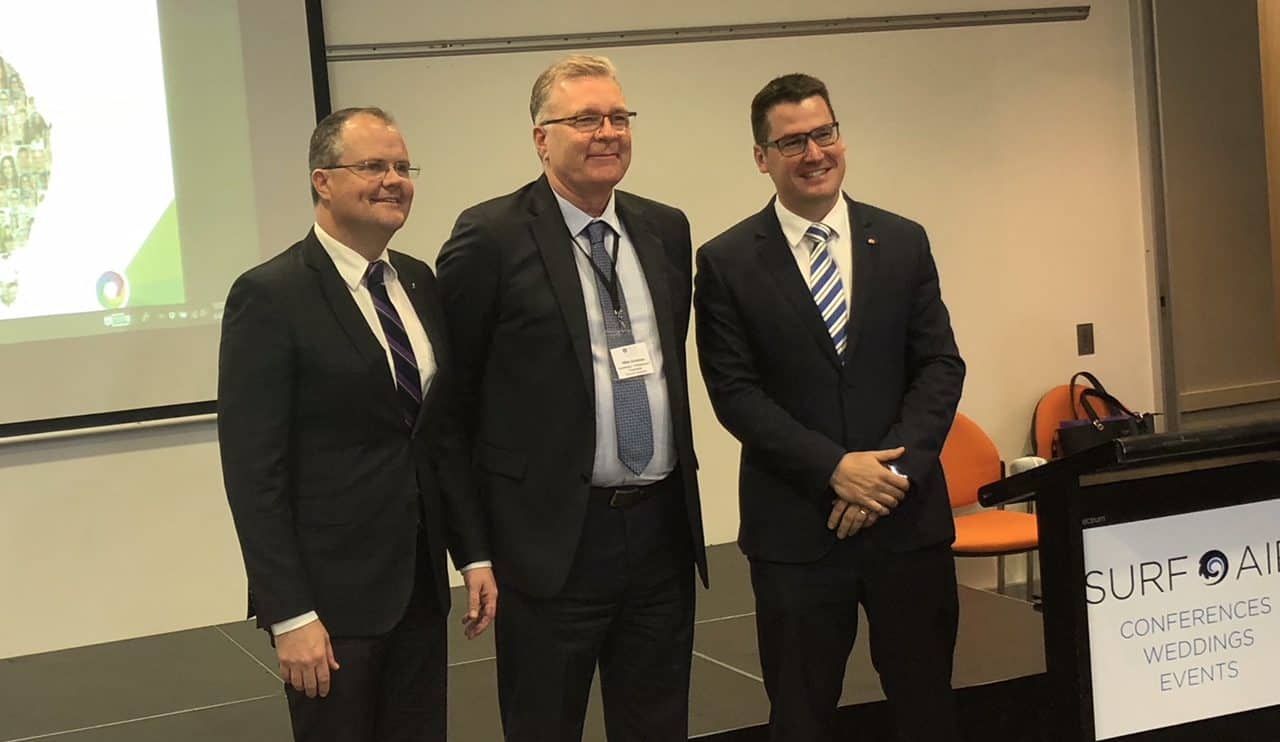 Pictured: Mike Goodman( middle) representing EO Frank Sammut with Senator the Hon Zed Seselja (left) and MP Ted OBrien (right)
Food Innovation Australia Limited (FIAL) launched their Cluster Programme in late 2017 to encourage greater connectivity and collaboration in regions and cities across the Australian Food and Agribusiness sector. Clustering accelerates innovation and growth; and this programme provides the platform for industry, government, and researchers to work towards a common goal.
This first-of-its-kind initiatives offers matched funding to support new and existing clusters in their quest to address a common purpose they otherwise could not pursue on their own
The programme has been well received by industry, with 30 high quality submissions received from cluster consortia across Australia.
FIAL is delighted to announce the successful applicants of FIAL's Cluster Programme are:
The East Gippsland Food Cluster, an established cluster located in Paynesville, Victoria, will receive $890,000 in funding from FIAL over three years. Gippland's $7bn agrifood sector is a key driver of the regional economy. This Cluster will work closely with Agribusiness Gippsland to deliver a suite of projects that will enhance regional capability, align regional initiatives and enhance partnerships to drive economic growth in the region. There will be a particular focus on leveraging global agrifood insights to drive value adding, collaborative on-line trading platforms, and raising brand awareness of the region whilst protecting provenance through intelligent traceability technologies.
Fermentation Tasmania (FermenTasmania), an existing cluster located in Hobart, Tasmania, will receive $840,000 in funding from FIAL over three years. This Cluster will aim to transform the future of the Australian agrifood economy through fermentation technologies. To achieve this, FermenTasmania will support enterprises involved in fermented food, drinks and other products to: develop and grow their product range, innovate, build know-how through training and access new business to consumer opportunities.
The Food and Agribusiness Network (FAN), a mature cluster located in Woombye, Queensland, will receive $900,000 in funding from FIAL over three years. FAN is Australia's fastest growing industry-led cluster, currently encompassing the Sunshine Coast, Gympie, Noosa and Moreton Bay. The goal of FAN is to deliver new programmes and services for its diverse members and creating the platforms for collaboration in addressing the shared challenges and opportunities of the region.
Central Coast Industry Connect, a new cluster located in Ourimbah, New South wales, will receive $393,000 in funding from FIAL over three years. The objective of the Central Coast Industry Connect Cluster is to give the Central Coast region a clearer identity and to grow the current food and beverage sector. They will achieve this by bringing industry, research organisations and government together to work collaboratively, upskilling local SME's and create more local employment.
These successful applicants were announced by Senator the Honourable Zed Seselja, Assistant Minister for Science, Jobs and Innovation, at the TCI Oceania Cluster Conference on the 6th June, 2018.
"We're delighted to go on this journey, guide and support the winners to solve common challenges, innovate, and grow the competitive advantage of their regions" said Peter Schutz, FIAL's Chairman.
The Government is committed to using the learnings and insights from this pilot programme to shape the newly announced $20M Export Hubs Initiative. FIAL looks forward to working with the Government on this exciting new cluster initiative.
For more information, visit: https://fial.com.au/cluster-programme.
About Food Innovation Australia Limited
Food Innovation Australia Limited (FIAL) is an industry led, not-for-profit organisation focused on growing the share of Australian food in the global marketplace.