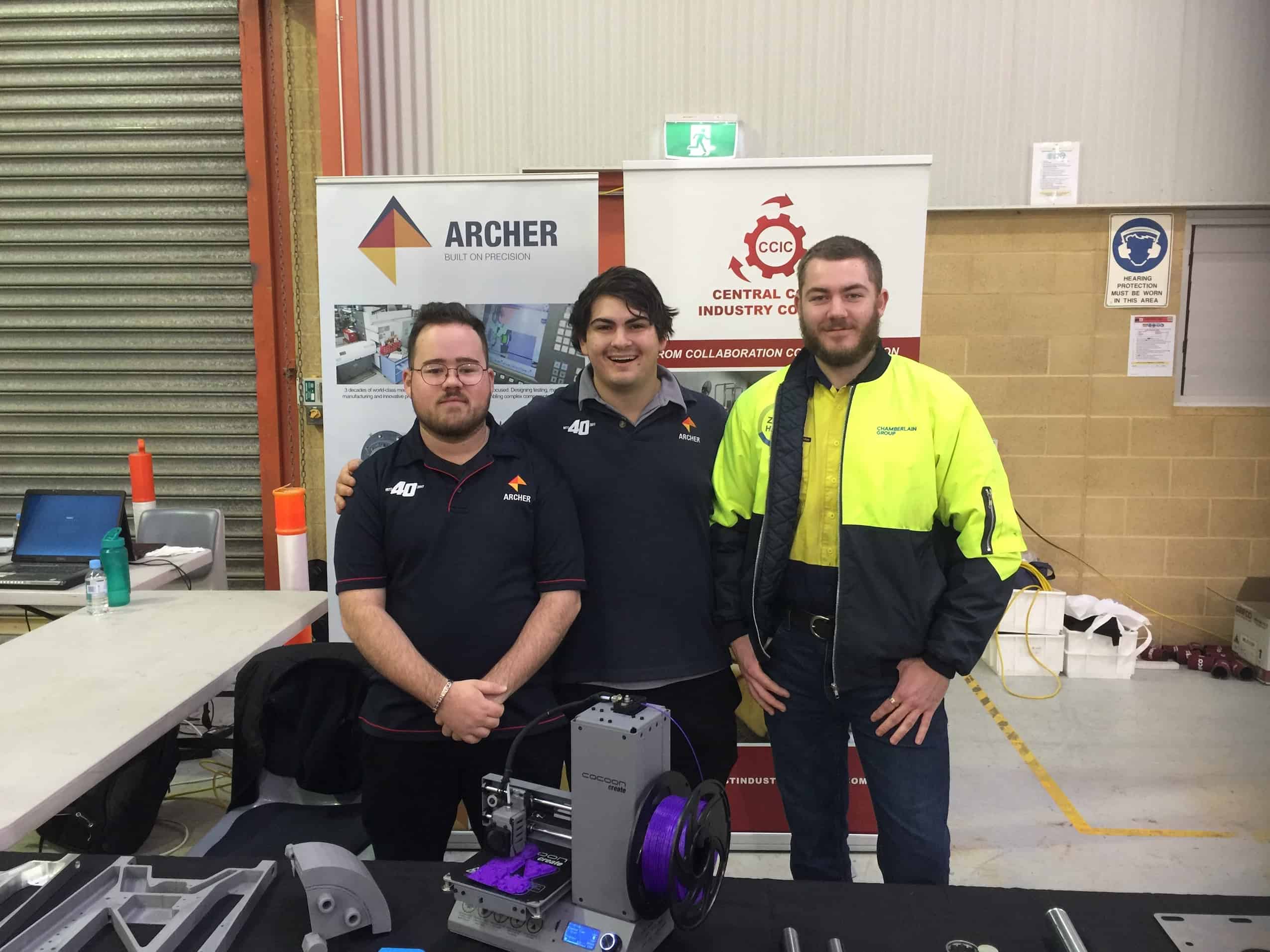 Photo: Tommy & Bradley from Archers and Alex from Chamberlain
Central Coast Industry Connect (CCIC) were pleased again to be associated with the Coast's Try A Skill day at the Ourimbah TAFE Campus.
Try a Skill is a local event where Year 9 & 10 High School students have the opportunity to experience hands on, different vocations and trades to assist them to make career choices for their future.
The event is targeted at students who are looking for a post school Apprenticeship, School Based Apprenticeship or Traineeship. The Central Coast Try a Skill hosted High School students from over 26 Central Coast Schools as well as Early School Leavers from Job Active Providers. During the event students were able to experience a range of trades and vocations where they could interact and try a range of skills lead by industry professionals.
Coordinated by a partnership of Central Coast organisations Central Coast Regional GTO Network, WorldSkills, Hunter TAFE and Central Coast Apprenticeship & Traineeships Advisory Committee, the Central Coast Try a Skill offers a unique opportunity for local organisations to showcase their businesses and trades to job seekers and school leavers, as well as their parents and careers advisors.
CCIC show cased two industry Sectors- Construction and Engineering. We were supported by local businesses Robson Civil project sand Archer Enterprises who have been supporters of us at this event in past years. This year we introduced the Chamberlain Group to the event.
Robson brought along a simulator where students could try their hand in driving and manoeuvring an excavator around a predefined course, a popular attraction for the students. Archers brought along two 3D printers which produced components at the show. They also provided samples of protype components produced on the printers and then their respective metal equilivants produced on CNC machines.  Chamberlain provided their commercial garage door opener in complete form and in component form to show the componentry and how it is manufactured.
These items attracted the attention of the students but the real learning for the students came from discussions with the team, Cindy HR Manager from Robsons and her support staff, Tommy 4thYear apprentice and Bradley Sales and Engineering from Archers and Alex 2ndYear apprentice from Chamberlain. The Tommy and Alex in particular were able to talk firsthand on their journey to becoming an apprentice in the field they are in and the opportunities they saw for the future.
Thanks to Archer Enterprises,Chamberlainand Robsons for providing their staff and equipment to make the day a great success for CCIC.
Related: Chamberlain Apprentice Alex Nivision video.