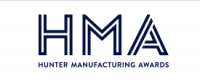 I am pleased to announce that I have been accepted onto the board of the Hunter Manufacturing Awards. CCIC has been a supporter of the awards for some time, promoting them locally in order to gain recognition for our local manufacturers. They are called the Hunter Manufacturing Awards but manufacturers from as far north as the Mid North Coast to our region here on the Central Coast together with those from the Hunter region are eligible to enter.
The Central Coast has had success in recent years at the Awards with Chamberlain Group winning the Excellence in Sustainability Operations award in 2020 and the Top award, Manufacturer of the Year in 2019.  In 2017 Airpak Sheetmetal won the Excellence in Technology award. There have been many Central Coast Manufacturers nominated over the years.
It is important that our sector gets recognised for the expertise, innovation and capability that exists and I am pleased that I can collaborate with the Hunter and other regions to showcase and reward our manufacturing industry as a whole.
I thank the board on recognising the importance of having the Central Coast represented on their board and accepting me as a representative for our region. More to come in the future.