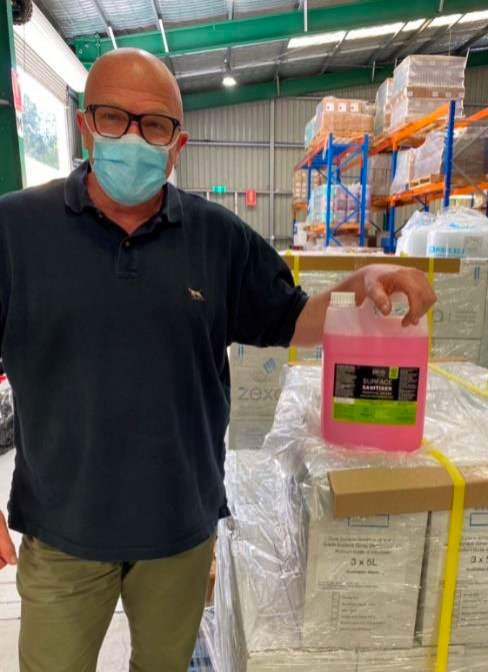 Sirron Holdings Group is based in Caves Beach, just south of Newcastle in NSW. At heart, they are a manufacturer of quality commercial dishwashing machines but, over many decades, they've evolved services to support the more specific needs of their customers. 
Their commercial cleaning division, Zexa Clean, manufactures cleaning products aimed at the hospitality and care industry. With an established reputation for high-performance chemicals that "Clean fast, clean safe", the Covid-19 pandemic made them the 'go-to' for local, reliable supply of outbreak prevention products. 
Now a leading Australian manufacturer of an extensive range of disinfectants, cleaners, hand & surface sanitisers and soaps, Zexa recently achieved ARTG listing for their Surface Sanitiser, Hospital Grade Surface Spray Disinfectant. 
Managing Director, Greg Gates, recalled the switch from manufacturing dishwashing machines to manufacturing hand sanitiser, saying it came down to thinking quick and utilising contacts to pivot the business within days. He credits his team and network for enabling the change that led to the development of a staggering 230 new products into 5 large supply chains.
 "In March 2020, we were watching what was happening in other parts of the world and at first our main concern was the impact it would have on our employees and livelihoods. Then we became aware of the critical shortage of hand sanitiser and knew it would affect everyone in Australia and we just wanted to help." 
"We already had the small mixing and filling plant that we made our other chemicals in. We dismantled one of the dishwasher production lines and turned it into a multi-filling production line," Mr Gates said. 
As the overseas supply chain broke down, Australia faced shortages of the soaps, disinfectants and sanitisers that were crucial for cleaning and hygiene. "The phone just kept ringing", said Mr Gates. "The supply chain was dry, no-one could get the products they needed. Every day, people were asking what we could make and how soon!" 
At this point, a decision was made to prioritise rapid development and supply wherever demand took it. Mr Gates described the effort involved as "massive". 
"We had to commercialise formulations, source scarce ingredients and packaging, develop safety data documents, understand lawful labelling and claims, organise product testing and assemble a team and external partners to manufacture large orders quickly", he said. 
"We've now built a track record as reliable, nimble local suppliers of customised products across all categories. If something needs cleaning, sanitising, disinfecting, deodorising – we can make something that does it fast and does it safely", said Mr Gates. 
"Now, more than ever, we need products that provide convenient hygiene assurance for the workplace, home and community", said Mr Gates. "We have worked tirelessly over the last 18 months to develop a product proven effective against SARS-CoV-2 but low toxicity and low irritant", he said. 
"My team and I are very excited to launch our lab-tested, ARTG listed Surface Sanitiser Hospital Grade Disinfectant into the market place and its proven to kill COVID 1-19 (SARS-CoV-2)."