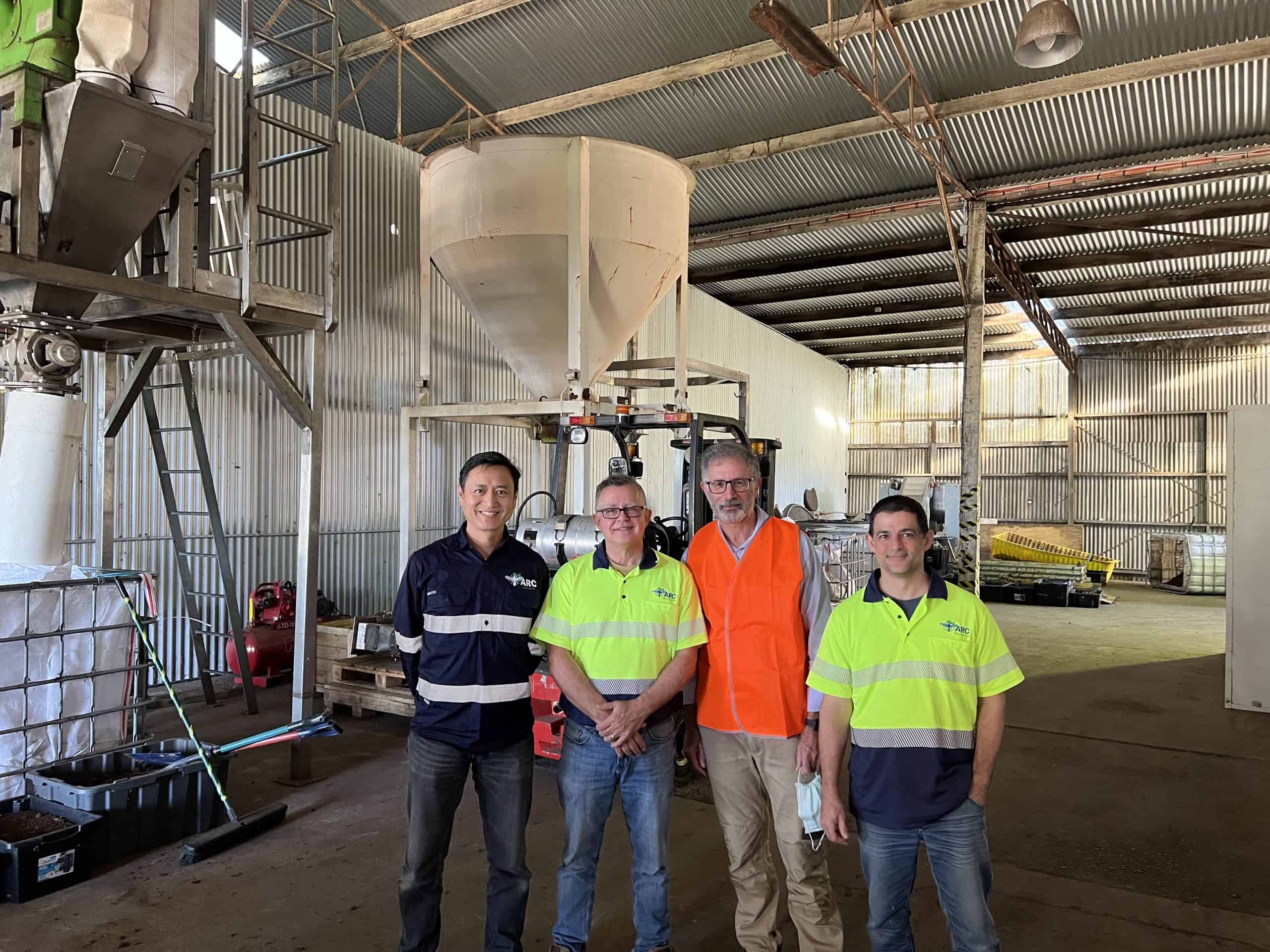 In the photo above from left to right. Henry Reyes CEO ARC, Ramon Atayde MD ARC, Frank Sammut ED CCIC and Ricky Atayde COO ARC.
Central Coast Industry Connect (CCIC) has signed an MOU to partner with innovative Somersby-based biotechnology company, ARC Ento Tech Ltd. to support them to commercialise their world-first waste processing technology, the ARC ProcessTM. The partnership will establish the Central Coast as a pioneer in the sustainable management of organic and inorganic waste streams using a combination of biological and mechanical processes developed by ARC Ento Tech.
Established in March 2020 by brothers Ramon and Ricky Atayde, ARC Ento Tech was founded on a vision of tackling the seemingly insurmountable problem of mixed solid waste that ends up in landfill globally. In Australia alone, tens of millions of tonnes of mixed solid waste is buried in landfill, creating a host of issues, from greenhouse gas emissions to environmental degradation. A lightbulb moment led Ramon, a mining engineer, and Ricky, an entomologist, to discover an innovative way to combine their expertise to develop a solution that solves 100% of the problem in a sustainable and commercially viable way. Realising no solution like it existed anywhere in the world, the brothers patented it. The ARC ProcessTM successfully converts mixed solid waste into marketable commodities, including an industrial reductant that can replace coal. The company has been nominated for the world's most prestigious environmental award, the Earthshot Prize, for their disruptive technology in the category of 'Building a waste-free world'.
Being a relatively new local company, ARC Ento Tech's decision to join CCIC has enabled them to generate greater awareness about the work they are doing and be connected with the right people at the right time. The signing of the MOU between the two organisations will transform their collaborative relationship into a true partnership that will facilitate the commercialisation of their waste processing technology. ARC Ento Tech Managing Director  Ramon Atayde said, "Our MOU with Central Coast Industry Connect is an exciting partnership that aims to promote a disruptive innovation that will change the waste processing landscape in Australia and the world and establish the Central Coast as the pioneer in this space and a true model of a Circular Economy."
A key objective of the partnership is to conduct a series of trials on various waste streams from local food processors and manufacturers to test the full capabilities of the technology. The partners will also explore the opportunities to utilise the process on domestic waste from our red-lidded bins to keep it out of landfill. CCIC Executive Director, Frank Sammut said, "Here is another Central Coast company flying under the radar with world leading technology that, when commercialised, will have significant impact on dealing with food waste streams at an industry level and potential for the domestic food waste. We don't need to go outside the region to find solutions to some of our problems."
ARC Ento Tech will be showcasing their innovative technology, part of which utilises the black soldier fly to consume and repurpose food waste, at the inaugural Central Coast Industry Festival Expo at Mingara from September 1–3.