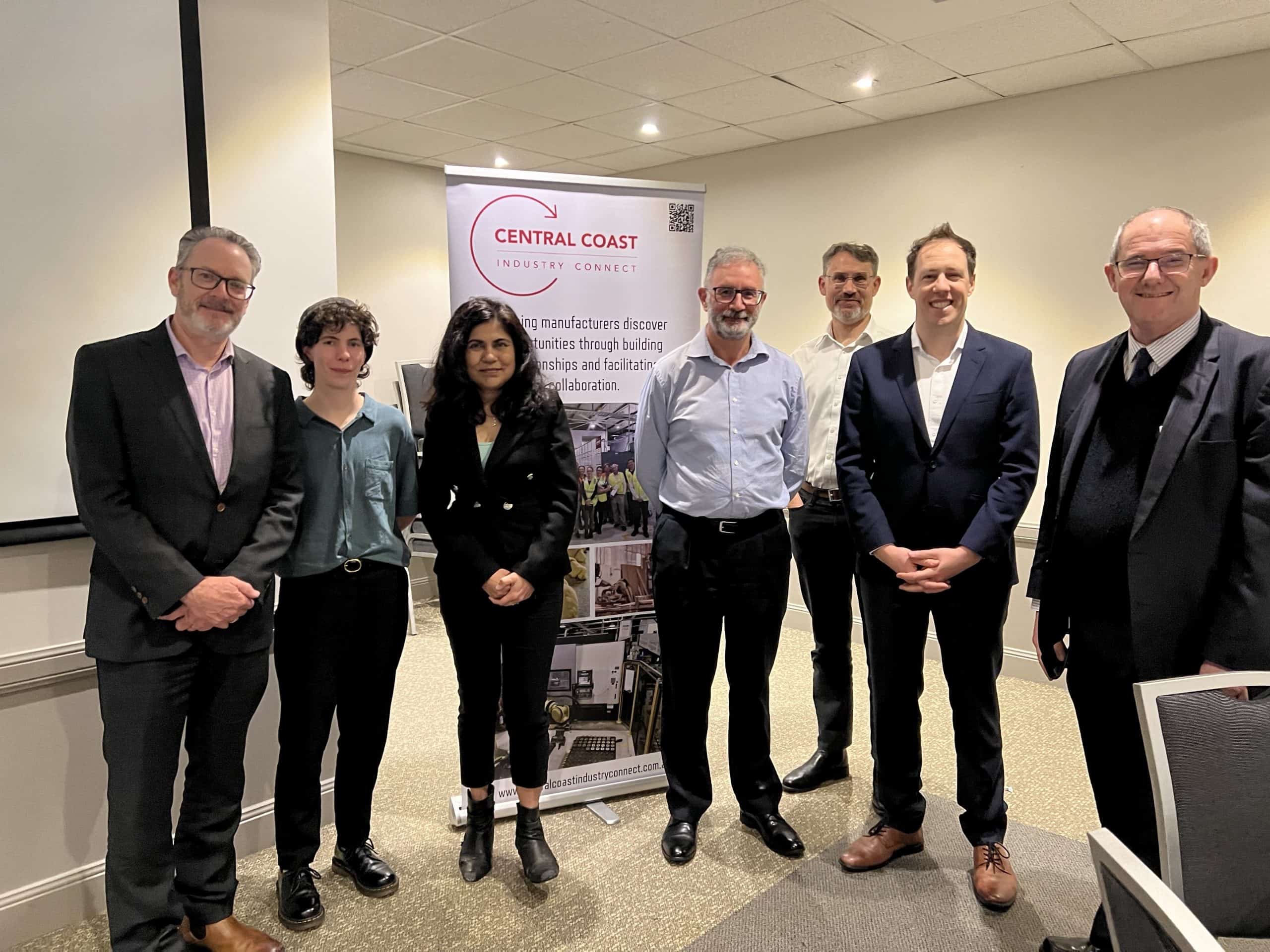 The inaugural Central Coast Industry Festival concluded with a three-day Expo on September 1–3 at Mingara Recreation Club. Over twelve months in the planning, the event was unanimously deemed a resounding success with over 800 in attendance across the three days, including local business representatives, members of the community and 200 invited high school students for a dedicated careers day.
Jimmy, a visiting student from St Edwards College, said, "It was a very informative day that let us know about the diverse types of careers we can choose in the future and how they all work. It really opened up my eyes to what's possible in manufacturing." Jimmy was particularly interested in the Bib N Brace stand, which demonstrated how recycled timber could be crafted into unique doors, while fellow student, Max, was drawn to Crossmuller's robotics display.
Crystal from St Peters Catholic College said, "Before I came [to the Expo], I thought manufacturing was people standing on a production line. But there are so many opportunities I didn't know existed. I especially liked learning about the pathways into hospitality and manufacturing, like quality control."
Training Services NSW representative, Cecile Oaks said she believed the students would have been "shocked" by what is being produced on the Central Coast and how many strong businesses, including some large organisations, there are in the region. She also said, "Because we work directly with employers and industry, the Expo has been very useful for us to engage with them in the one place and explain what we do and how we can help for those unfamiliar with school-based apprenticeships and traineeships."
The Central Coast Industry Festival was initiated, organised and hosted by Central Coast Industry Connect (CCIC), a not-for-profit, member-based organisation that helps Central Coast manufacturers and industry unlock growth opportunities through relationship building and collaboration. The event was jointly funded by the Australian and New South Wales Governments under the Disaster Recovery Funding Arrangements on the back of bushfires, floods and COVID-19. The three-day Expo portion of the Festival brought together over 50 of the region's leading manufacturing and food and beverage production businesses and the businesses that support them.
Networking, collaboration, awareness, and business opportunity generation were key objectives of the Expo and, based on feedback from exhibitors, including several requests for the event to be held again next year, those objectives were met.
Ian Hemphill, Managing Director of Herbie's Spices, said, "Many people have come by and said, 'Oh, I know your brand. I've been using Herbies Spices for years. I had no idea you were on the Central Coast'. The Expo has also been a valuable networking opportunity. We had nearly three years where we weren't able to do much and now, we've finally been able to come together face-to-face."
Open Shutters Managing Director Gail Cottrill said, "It's been fantastic to connect with the other industry partners that are here. There's an amazing buzz. It's an exciting time for industry on the Central Coast."
The Expo also attracted some overseas interest with SpotGo Managing Director Brendan Small commenting that he received an enquiry about a potential export opportunity for his premium cleaning products from a visitor to his stand.
CCIC Executive Director Frank Sammut said the two-week Festival, which included nine free capability building workshops, had exceeded expectations. He said, "At this difficult time with labour shortages and high sick leave in the sector, we still managed to get good attendances to our Festival with the feedback being extremely positive from the participants and visitors. It's times like this that reinforce the importance of learning and engaging with your peers to ensure you can ride through these difficult times. We are all in this together."